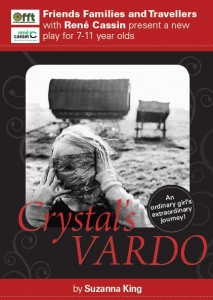 Bullied at school, Crystal - a young Gypsy girl – runs away with her grandfather's vardo (wagon) and pony. Finding herself in a strange new school, Crystal knows she has to trust the children she at first fears if she is to find her way back home.
As she begins to tell them the story of her ancestors, something extraordinary happens: Crystal and her companions find themselves taken back in time to when the first Gypsies
migrated from Northern India.
The performance, written in response to the continued problems of discrimination and bullying faced by young Travellers, unfolds using of traditional story telling,
music and projections.
Live Gypsy music will follow the evening show in the Pavilion Theatre Bar.
Supported by René Cassin
For ages 7+
Tickets: £6 ( £4 concessions)
Some of the  Sea Spray Hotel will be attending this event!