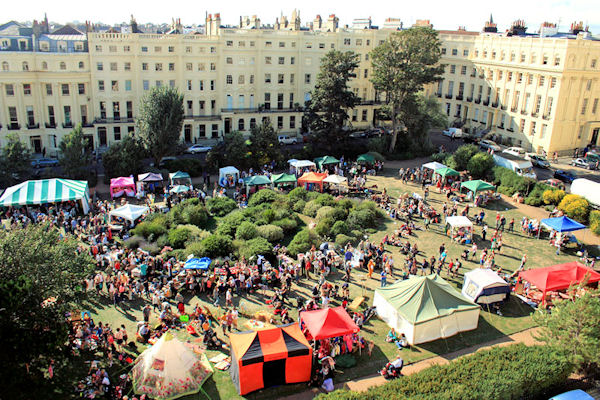 One of Brighton's famous FREE festivals
Visit Brighton and The Sea Spray team are going to the Brunswick Festival which is is a voluntary organisation which produces an annual festival in celebration of the diverse community of Brunswick, Hove. AND IT'S FREE!!!
Through the hard work and efforts of a small team of local residents and volunteers, this vibrant community festival has grown over the years from being a low key picnic on the green, and now encompasses 2 whole weekends of outdoor events.
Brunswick Festival is one of the longest running festivals in the city, and this year celebrates its 33rd year
16th and 17th August 2014 – Brunswick Festival in the square.
A fun filled family weekend with a FREE programme of live music, dj's, dance groups, circus skills, healing area, children's activities, arts and crafts.
Sea Spray are ready to shout about the 32nd Brunswick Festival.  A bustling market area with bric-a-brac, home made goods, vintage clothes, charity information stands and other wonderful stalls galore.
A world food area with tasty delights and healthy snacks. A tea tent with the best home made cakes on earth! The 'Brunswick Tavern' tent with real ale, cider, wine, beer and Pimms.
Our popular Willowisp children's area is expanding this year and offers hands-on arts and crafts for all ages: circus skills, balloon art , puppet and magic shows too!
Bands Confirmed to date include: Peter And The Test Tube Babies, Red Raucus, The Blackfields, The Tatsmiths, Mind of a Lion.